SQL Server Database Recovery Software - A Product Suiting Your Need
SQL Recovery software can be exactly what you might be looking for. Get this great SQL Server database recovery tool, suiting your need.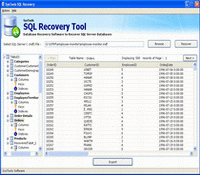 SQL Database Files – About Their Importance and Their Loss: MS SQL Server is used in almost every organization today for many functions like listing of various transactions, operations, data etc. SQL Server database MDF files are highly mission-critical whose loss can even abort some crucial operations of an organization. Even if you have deployed many precautionary measures to check data loss disasters; MDF files of SQL Server can still damage/corrupt due to many different unforeseen reasons.
Our Software Support SQL 2000, 2005 and 2008: SQL Recovery software is a comprehensive solution to recover SQL Server database. You can use this software for the following recovery needs:
SQL Server 2000 database recovery
SQL Server 2005 database recovery
SQL Server 2008 database recovery
Demo Version of SQL Server Database Recovery Tool (FREE Download)
You can download the FREE Demo Version of SQL Recovery tool online easily. This Demo Version is made available to acquaint you with the product and for your evaluation of the software & your satisfaction before the purchase of the Full Version.

Demo version will only give you the preview of the all recoverable items BUT it will not allow you to save those files. For saving the all recovered files, you need the Full Version of the SQL Recovery software.
How to Recover SQL Server Database Using Our Tool? If you are searching answers for any of these questions – How to recover SQL Server 2000 database…How to recover SQL Server 2005 database…How to recover SQL Server 2008 database? – Then we have a very easy answer and a very quick solution for you. You just have to follow the following five quick steps of SQL Server database recovering process:
Open SQL Recovery software
Select corrupt MDF file and click the "Recover" button to initiate the recovery process
You can preview the contents of repaired MDF file
Click on the "Save" button for saving the repaired file
Choose a Saving Option and click "Export" button to the save the file to the desired location
Key Features of This SQL Server Database Recovery Tool:
Our versatile SQL Server database recovery product has many useful features. Some of its key features are as follows:
Using our SQL Server database recovery software, you can repair corrupt MDF files without any data loss or data change
Our product recovers all records from corrupted or damaged MDF files and saves them into a separate SQL script file.
Recovers tables, tables' data, stored procedures, default rules, values, functions, triggers, views, constraints, checks, user data types & the rest.
You can also recover key Meta data like unique keys, foreign keys, primary keys, etc.
You can perform SQL Server 2000 database restore process.
You can perform SQL Server 2005 database restore process.
You can perform SQL Server 2008 database restore process.
You can use our tool on Windows 98, ME, NT, XP, 2000, 2003, Vista, & 7.
You can preview the recoverable items along with the Meta data information before saving the files to your system.
Purchase Full Version of the SQL Server Database Recovery Tool
The price of our product is starting at just $129. Once you are fully gratified after seeing the trail version, you can purchase the Full Licensed Version of SQL Recovery software for complete SQL Server database recovery. Purchase SQL Recovery Software.